Brighthouse Regional Business Awards
Small Business of The Year 3rd Place
Captain Memo's was recognized as one of the Tampa Bay area's top small businesses by Bright House Networks at their 2016 Regional Business Awards.
Bright House Networks selected outstanding businesses in each category: Small; Medium; Large; and Start-Up for the awards, which honor the companies, organizations and people who have impacted the Tampa Bay area with their products, services, and thought leadership. Winning businesses were honored at a special celebration on February 11, 2016 at the Tampa Convention Center, which featured the Tampa Bay Sports Commission's Rob Higgins as a special guest speaker.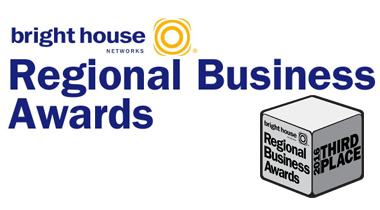 Greater Tampa Bay Chamber of Commerce
2016 Small Business of The Year Finalist
Captain Memo's Pirate Cruise was selected as a finalist for the Greater Tampa Bay Regional Chamber of Commerce Small Business of the year. Serving as the cornerstone of Clearwater Beach's family friendly atmosphere, the bright red pirate ship remains a source of wonder for tourists and one of pride for locals.