As we embark on our journey, soak up the sun and revel in the scenic views of Clearwater as we comb the horizon in search of dolphins. Get lost in the pirate antics during our two hour odyssey including a treasure hunt, face painting, water gun games, stories and dancing for all ages.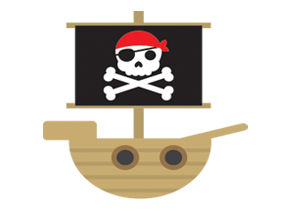 The Pirate's Ransom was custom designed and built to U.S. Coast Guard requirements for the owners in 1993.
Cleanliness and order are among the top priorities of our crew which extends to all facilities. A professional quality surround system throughout the boat plays a wide variety of tunes.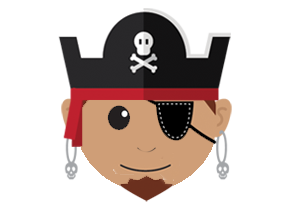 Our spirited crew of pirates are individually selected by Captain Memo himself. They are chosen not only for their enthusiastic personalities and immeasurable politeness, but also for their knowledgeable seamanship abilities. Our pirates maintain the ship's cleanliness, insure safe boating practices, entertain the children and most importantly keep your goblet full of grog.
Current Cruise Times

Sunday – Friday
2PM & 5PM
Saturday
10Am, 2PM & 5PM
Online reservations cannot be made within 24 hours of your desired cruise time, for same day reservations guests must call our ticket office to secure their booking. 
*Note: Cruise times / frequency are seasonal, please review the full schedule to help in the booking process.
Daytime Cruise Prices
Adults:
$37.00
Seniors

( 65+)

:
$35.00
Juniors

(13 – 17)

:
$31.00
Children

(3 – 12)

:
$30.00
Babies

(2 & under)

:
$11.00
Sunset Cruise Prices
Adults:
$40.00
Seniors

( 65+)

:
$35.00
Juniors

(13 – 17)

:
$31.00
Children

(3 – 12)

:
$30.00
Babies

(2 & under)

:
$11.00
Pirate Birthday Parties
This is the most exciting attraction on Clearwater Beach! A one hour birthday cruise on beautiful Clearwater Beach Florida. You too can have your child's private birthday party on the Pirates Ransom!
We entertain the children with Pirate Hats, Treasure Hunts, Face Painting, Musical Games, Pirate Stories, Water Gun Battles, Dance Program, Pirates Gold, Beads and A Pirate Pinata.
Pirate Weddings
Does a traditional wedding sound a little too dull for you? If you arggghh more of the adventurous type, why not consider a pirate wedding. Tie the knot and embark on the voyage of marriage while sailing across the beautiful Gulf of Mexico. We'll settle the ship overlooking the horizon as our captain officiates your ceremony. Once it's finished, let the plundering and pillaging begin!
Corporate & Private Charters
We've hosted countless Fortune 500 companies providing the setting for team building, networking or just a fun break from long days in conference rooms. We'll be the highlight of your trip! Our corporate charter coordinator is happy to discuss any and all requests. We work with your point person to ensure every detail is taken care of and are more than willing to coordinate with our approved list of vendors on your behalf. If your group is coming to the Tampa Bay area, there's no better place to host your corporate event.
Captain Memo's Gift Certificates make a great gift for the entire family and can be purchased for any amount. Our gift certificates are filled out in a very neat calligraphy and can be picked up locally or mailed to the address of your choosing.
Our Gift Certificates are offered in standard and holiday-themed patterns including Christmas and Valentine's Day.
We also offer a supplement to the gift certificate in our 'Booty Bucks' used as tender onboard the ship for snacks, souvenirs, and other goodies.
If you're interested in purchasing a gift certificate, please contact us and a member of our staff will be happy to take yer treasure.
Call for Gift Certificates
727-446-2587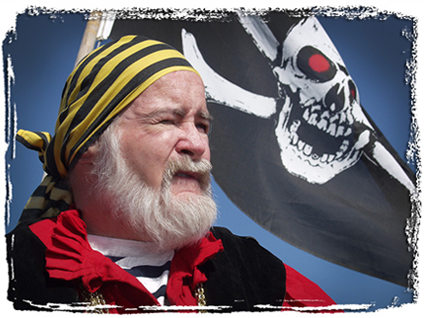 Captain Memo
June 5, 1948 – October 13, 2009
Captain Memo and his wife Panama Pam sailed to Florida from California in a 30 ft. sailboat via the Panama Canal.
In an earlier life he used to be known as Bill Wozencraft, a Prudential Life Insurance Agent. His wife, Pam, had been a teacher for the Hearing Impaired.
After getting up each morning knowing he had to put on a suit and tie just to go out in the world and get rejected by 95 people a day, he knew there must be a better way to exist on this planet other than selling life insurance. Never in his wildest dreams did he imagine that would be pillaging and plundering as a pirate on Clearwater Beach.
The initial goal they set was to sail to the Caribbean within a year. It actually took two and a half years, and they ran out of money along the way.