Celebrating 40 Years of Fun
Captain Memo's Pirate Cruise – Clearwater Beach – Est. 1977
We are a family oriented pirate themed day cruise located right in the heart of Clearwater Beach, Florida. Since first sailing into Clearwater Beach Marina, we've occupied the very same dock slip for what is now over 40 years.
We've brought joy to countless children's faces and coaxed out the inner pirate in many adult landlubbers as well. We pride ourselves on remaining the only attraction in Clearwater that caters to both children and adults within a family friendly atmosphere.
So, what do ye' say…
Arrrrr you ready for your pirate adventure?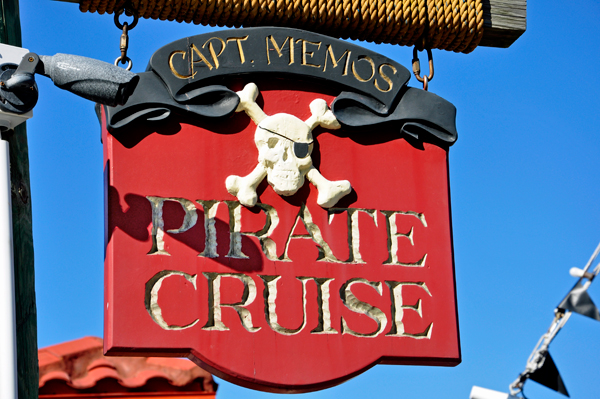 Captain Memo's Pirate Cruise
25 Causeway Blvd. Clearwater Beach Florida 33767
Have a question you need answered?
You may find these links helpful:
The Legend of Captain Memo
The story behind Captain Memos's Pirate Cruise
Captain Memo and his wife Panama Pam sailed to Florida from California in a 30 ft. sailboat via the Panama Canal.
In an earlier life he used to be known as Bill Wozencraft, a Prudential Life Insurance Agent. His wife, Pam, had been a teacher for the hearing impaired. 
After getting up each morning knowing he had to put on a suit and tie just to go out in the world and get rejected by 95 people a day, he knew there must be a better way to exist on this planet other than selling life insurance. He didn't know it would be being a Pirate in Clearwater Beach, Florida.
The initial goal they set was to sail to the Caribbean within a year. It actually took two and a half years, and they ran out of money along the way.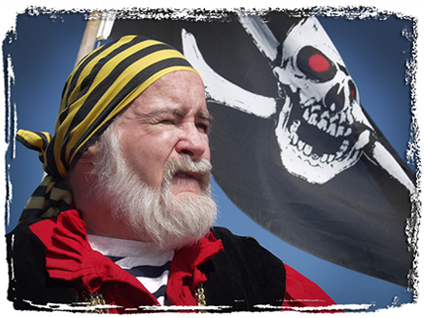 It was in Panama that "Bill" became "Captain Memo". the Panamanians, who speak Spanish, called Bill by his Spanish name "Memo". Since he had a boat, he became Captain Memo.
A Canadian Travel Company invited Captain Memo to Clearwater Beach, Florida, where they were going to build a Pirate Ship. And, they needed an American Captain to run the ship for them. "How would he like to run it for them?"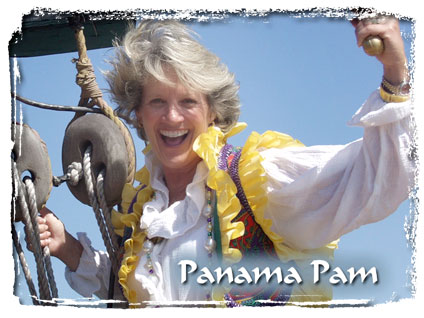 Panama Pam
Owner, Co-Founder
Captain Memo asked what he had to do, and the company said that all he had to do was to get to Clearwater Beach, Florida, and that they would take it from there. So, the two of them sailed some 3000 miles with only $50 in their pocket and a empty case of Coke bottles, only to find out that this travel company was all talk and no "go".
Pam then went to work as a cocktail waitress to get them started. They moved off their boat, painted it black, and added brown sails. She made Captain Memo some pantaloons, a bandana and sash and he came out as Captain Memo The Pirate, yelling, "Ahoy, Mateys!".
With heavy hearts, we announce the passing of an icon.
In loving memory of Captain Memo June 5, 1948 – October 13, 2009
To honor his legacy, his family will continue to follow his dreams of bringing joy to all through his pirate cruises.
AND THE REST IS HISTORY…
Brighthouse Regional Business Awards
Small Business of The Year 3rd Place
Captain Memo's was recognized as one of the Tampa Bay area's top small businesses by Bright House Networks at their 2016 Regional Business Awards.
Bright House Networks selected outstanding businesses in each category: Small; Medium; Large; and Start-Up for the awards, which honor the companies, organizations and people who have impacted the Tampa Bay area with their products, services, and thought leadership. Winning businesses were honored at a special celebration on February 11, 2016 at the Tampa Convention Center, which featured the Tampa Bay Sports Commission's Rob Higgins as a special guest speaker.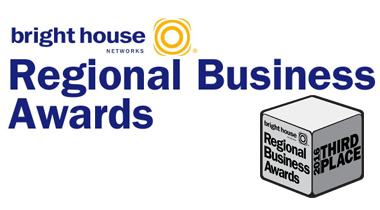 Visit St. Pete Clearwater Bestie Award
Bestie Award: Best Water Excursion
Captain Memo's was recognized as 2019's "Best Water Excursion" by Visit St. Pete Clearwater.
Visit St. Pete Clearwater is the official tourism board of the St. Pete Clearwater region raising awareness of the fun and relaxation that awaits in the beautiful beach towns of St. Pete and Clearwater, Florida. The Bestie awards are the organization's way of recognizing businesses that best represent the region in each of their respective categories.

Greater Tampa Bay Chamber of Commerce
2016 Small Business of The Year Finalist
Captain Memo's Pirate Cruise was selected as a finalist for the Greater Tampa Bay Regional Chamber of Commerce Small Business of the year. Serving as the cornerstone of Clearwater Beach's family friendly atmosphere, the bright red pirate ship remains a source of wonder for tourists and one of pride for locals.