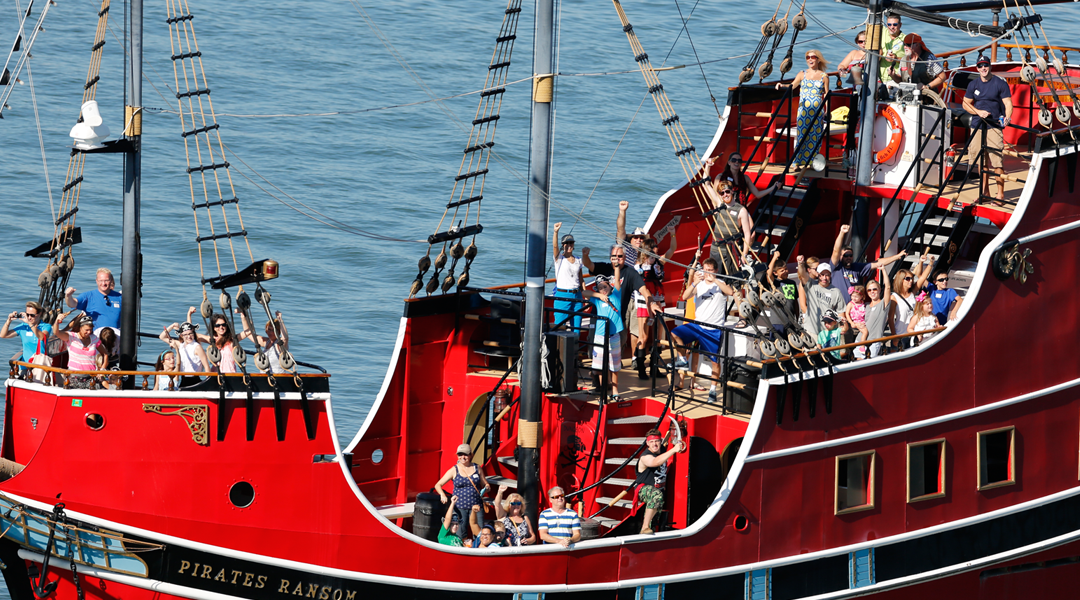 About our Cruises
Fun for pirates of any age
Sail away with Captain Memo's Original Pirate Cruise to a world complete with briny buccaneers and seafaring seadogs. Let the tropical island tunes guide your journey through the calm waters of the picturesque Gulf of Mexico.
Once onboard, enjoy a refreshing, complimentary beverage served by one of our many friendly pirates. For you older scallywags, embrace your pirate side with choice of free beer or wine or purchase your favorite libation at our full service bar. On our sunset cruises, take in on of the most breathtaking sights as the sun sets over the gulf producing incomparably colorful skies.
As we embark on our journey, soak up the sun and revel in the scenic views of Clearwater as we comb the horizon in search of dolphins. Get lost in the pirate antics during our two hour odyssey filled with fun for all ages including: a treasure hunt, face painting, water gun games, stories and dancing.
For Kids:
Pirate stories – Games – Treasure hunts – Face painting – Water gun battles – Lots more!
For Adults:
Complimentary beer and wine on all cruises, with champagne complimentary on cruises after 4pm – Adults only 3rd deck. 
For Everyone:
Dance party – Dolphins – Awesome atmosphere – Tropical weather – Beautiful scenery.
Current Cruise Times
10am (Sat Only) ● 2pm ● 4:30pm ● 7pm
---
Arrr you ready for your pirate adventure?
That's fantastic, we're looking forward to having you. Remember, cruise times are seasonal always book in advance.
Online reservations cannot be made within 24 hours of your desired cruise time, for same day reservations guests must call our ticket office to secure their booking.
*Note: Cruise times / frequency are seasonal, please review the full schedule to help in the booking process.
Daytime Cruise Prices
10:00am and 2:00pm
(10AM Sat Only)
Adults:
$36.00
Seniors

( 65+)

:
$33.00
Juniors

(13 – 17)

:
$31.00
Children

(3 – 12)

:
$28.00
Babies

(2 & under)

:
$11.00
Sunset Cruise Prices
4:30pm and 7:00pm
Adults:
$39.00
Seniors

( 65+)

:
$33.00
Juniors

(13 – 17)

:
$31.00
Children

(3 – 12)

:
$28.00
Babies

(2 & under)

:
$11.00
Guest Checklist
Please take note of the following information if you are cruising with us
Make your reservation EARLY, we often sell out. Groups larger than 10 should ALWAYS call to insure space is available.
Reserve online and save $2 off each ticket price.
Online reservations must be made reserve 24 hours in advance. Otherwise please call to secure your booking.
You need to arrive at least one hour prior to your cruise time. Clearwater Beach is very popular.
If there's space, park in the Clearwater Beach Marina at 30 minute meters.
We sell a parking permit that will supercede the metered time.
If you're staying on the beach, we suggest walking, parking options are limited.
We do sell light snacks, but meals are not included nor available onboard.
If you're running late, please call so we can put either put your fears at ease or make space for you on our next cruise.
Any Difference Between Cruises?
Which cruise is best for you?
All cruises follow the same program, and given consitent weather, follow the same route. The key difference is our sunset cruise is, as the name states, offers passengers a chance to take in a beautiful Florida sunset over the Gulf of Mexico. On sunset cruises champagne is also added to our list of complimentary bevarages.
Day Cruises
Ideal for young children and those who want to experience Florida's tropical weather from the water. Our cruise schedule varies based on
Evening Cruises
These cruises remain family oriented, however they can be a little late for young children. These cruises are favorites of couples and adult groups looking for wholesome fun.
Cruise times / frequency change seasonally, please see full schedule for exact times/dates.